I feel like I am late to the party! With a busy semester ongoing and barely any time to try to enjoy off, Steam decided to update their "Big Picture" feature. Let's take a tour of this. Press the "English" and "日本語" buttons to switch language of the screenshots to English and Japanese respectively. Furthermore, you can click the images to see their full resolution (1920x1080).
Screenshot Language:
Home Screen
I was welcomed to the "Big Picture" with this screen. It has changed since the last time I used it. Sadly, I don't have screenshots (that I took myself) of the older Steam Big Picture mode.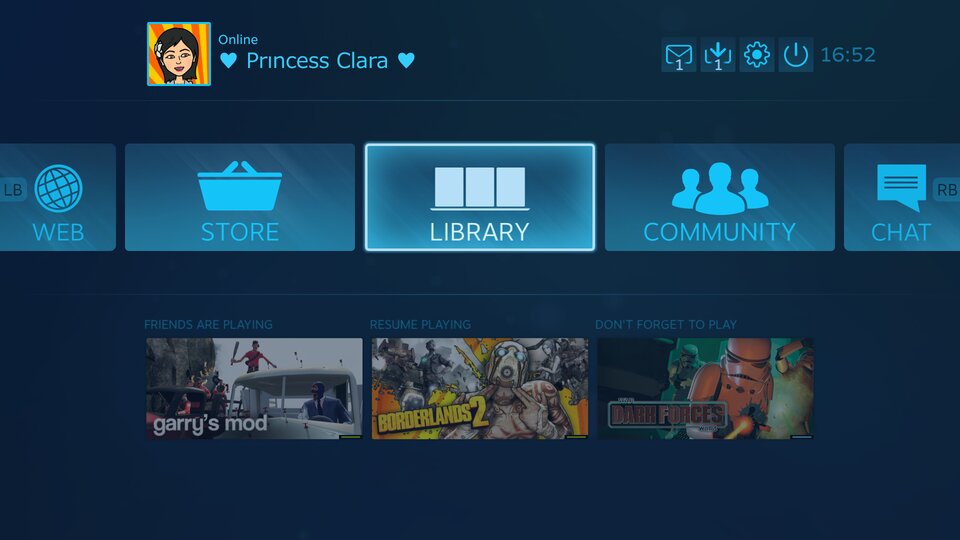 The feel of the interface is pretty nice. There are ambient sound effects that play (Which can be muted in settings, by the way) and you can control it with the Keyboard, Mouse, and Controller. Speaking of which, it detected my reliable Afterglow PS3 controller and worked flawlessly. I read up on the internet that a lot of people have a hard time getting PS3 controllers to work... guess I was fortunate.
Game Menu/Game Library
The big thing about Steam is obviously games, and God I have a lot of them, yet I never played 75% of them. Whatever... At least I didn't pay as much as I would have if I played on console. The interface feels like I am playing on a console (Again, everything works on a controller). I think it reminds me though of the PS4's interface honestly. Though I never actually used a PS4 myself.
Everything is accessable here. You can access screenshots, reviews, videos, broadcasts, DLC, etc. Also notice at the bottom of the screenshots where it shows the buttons (Oddly, showing XBox controls for a PS3 controller, hmm). The menu gives full control to the controller and even tells you what button does what. Lovely.
Store
So right now, it is sale time on Steam. Things like the Black Ops II Season Pass are on sale for 50% off... Black Mesa is 52% off (For some reason...). You get the idea, it is that time of the year to buy games. I have yet to test a purchase with the Big Picture mode but the Steam store is accessable and I can see what kind of games I want to get, and their prices. :)
Again, I have not tried to buy anything using Big Picture (yet), but I suspect that it will work.
Friends/Profile
There really isn't much to say about this...
I honestly don't like being on Steam and being shown as "Online" (Or 「オンライン」, in my case) so usually I set myself as Offline. The chat experience isn't exactly the best in my eyes, but that is because I didn't want to pull out my keyboard and type. Also, I was never a fan of using the controller to type. Therefore, I just stayed away. But put simply, "Friends" menu is functional and looks great. I have not tried group management, chatting, etc with this interface yet though I might look into that sometime later. This menu is very important to Steam apparently, because you can access it at any time via pressing the RB button on the controller, regardless of wherever you are at. Pretty useful for those who do want to chat with friends with the acursed Controller Keyboard. >.>
The profile is also accessable by going to home and pressing up (Or just clicking it...). It looks like a better version of Steam Community's page generated for each player. It shows all of your general info such as your badge, profile description, achievements, friends, games. Pretty much everything you can expect. Also, depending on your Steam level, extra modules appear.
Settings
Ignoring the fact that the machine used to run Steam's Big Picture mode is a Windows 7 PC, settings are available to configure your "Steam Machine".
Of course, there is a LOT more than the controller options in here (I may add those later). You can configure the language, the audio (Such as the ambient noise playing in the background that I mentioned earlier), and even delete games off of your system. It also can show a summary of your system specs, including how many cores your CPU has, your VRAM, RAM, Disk Space, etc. It is fully configurable. Though I have not found an option to save a lossless screenshot yet (It is in the desktop version).
Wrap Up
There are a few things I did not talk about in this entry. One, notably, is the web browser. All I can say is that it works and loaded DERPG's homepage perfectly (If it can load DERPG up, it is a pretty modern browser...) and was functional with controls. Though I did not like the zoom-in/out controls. Bleh.
Another honourable mention is the Steam in-game overlay. The overlay is different if you are in Big Picture Mode. So far, games I have played have integrated well with it. You press the home button on your controller and the overlay opens (Pressing Home + R2 takes a screenshot). Oddly, you can take screenshots while in Steam's in-game overlay mode and it will capture it... I mean it: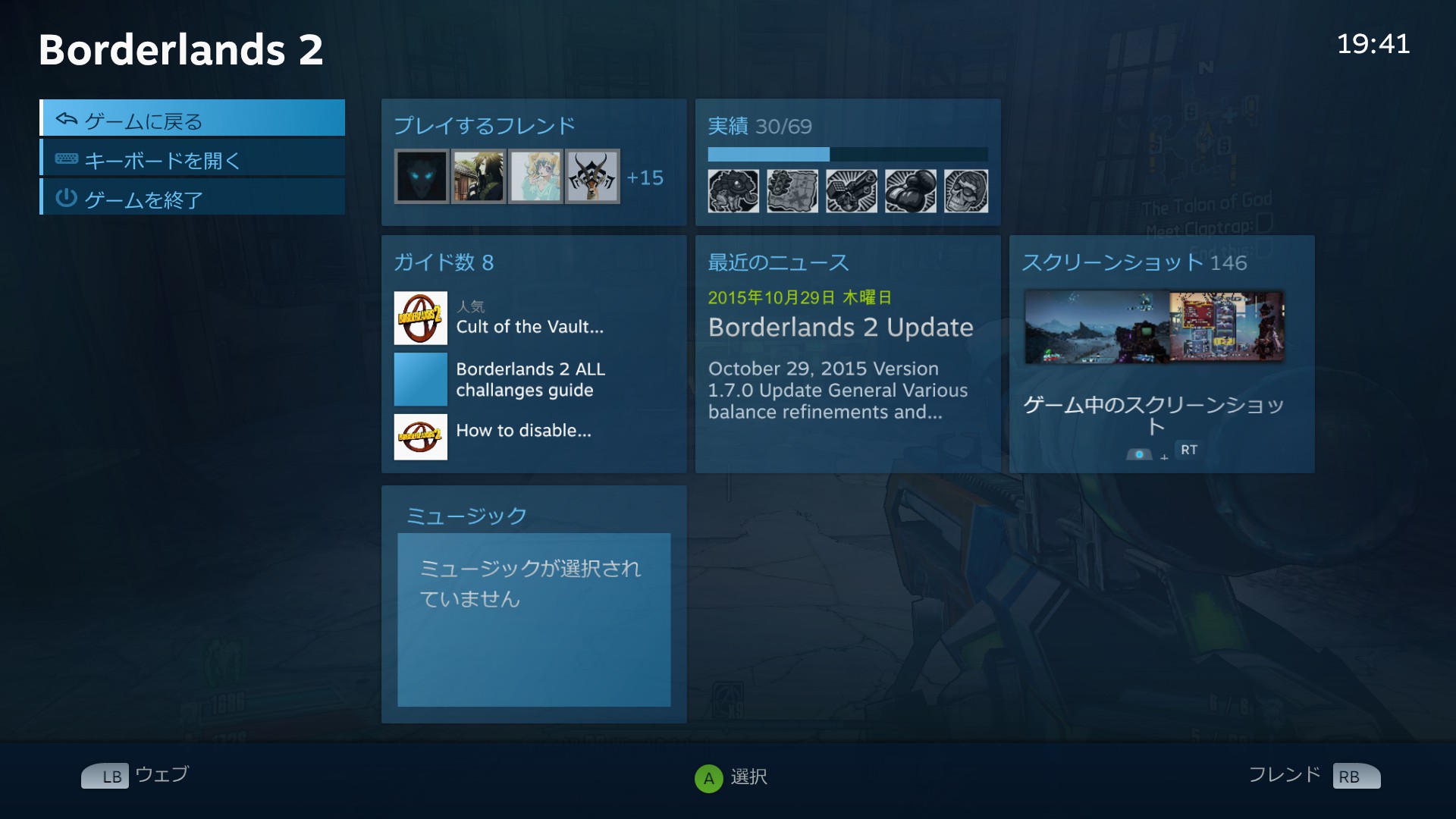 Overall, I guess I like trying new things. But this layout looks like a great start to the Steam Machine platform. Would I hook this up to my TV to play? Well I already did that. Take a look. :3 It was also nice playing Borderlands 2 on the big screen in 1080p (Unlike on PS3). Managed to actually beat it too.